It's that magical time of year again, and we're all about to dive headfirst into the holiday season. So, grab your favorite cozy drink, settle in, and let's chat about the trends that are going to make your Christmas decor shine this season.
1. Bright & Bold Elegance – roses (and trees) are stealing the show:
We all know the warm, fuzzy feeling of a real Christmas tree. But here's the twist for 2023 – Jim Osburn from The Bridgehampton Florist has us buzzing about trees with a punch of bold colors. They're not just eco-friendly; they're a visual delight. Imagine dressing them up with fresh greenery, ornaments, and vibrant ribbons to make a bold statement that'll leave your guests wide-eyed.
2. Dried Flowers and Poinsettias:
Guess what's making a stylish comeback? Dried flowers! They're not just for potpourri; they're long-lasting and perfect for a touch of nostalgia. And don't forget to play with various colors of poinsettias to keep the crowd pleased.
3. Ribbons and Bows – The Art of Creativity:
Now, let's talk ribbons and bows. Some creative florists out there dedicate hours each week to whip up bows in different shades and ribbon styles. It's all about creating a unique, artsy look for your festive decor in 2023.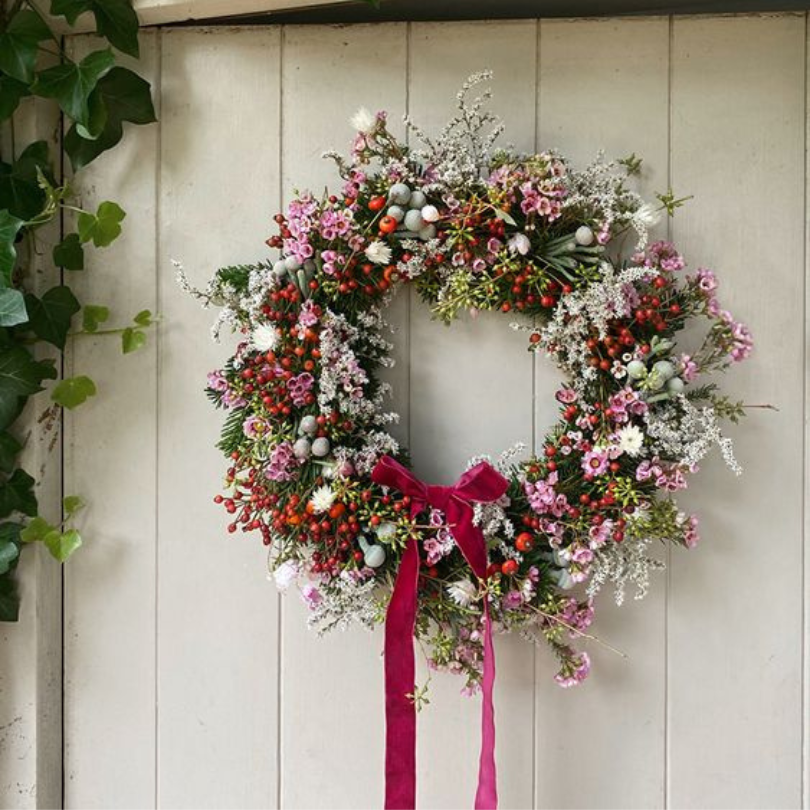 4. Pre-Lit Christmas Wreaths – Hassle-Free Sparkle:
Who's got the time to fuss over untangling Christmas lights? This year, pre-lit Christmas wreaths are the real lifesavers. They come decked out with gypsophila, pines, or even roses, instantly adding a festive touch to your home. And here's a little early Christmas gift for you – check out our easy Xmas wreath with our ruscus, cocculus, and red and white roses. It's a little something to sprinkle some extra magic on your holiday decor.
5. Organic and Wooden Vibes – The Vintage Charm:
For 2023, it's all about embracing the vintage vibe. Beiges, creams, light pinks, and pine ornaments are taking center stage, creating that cozy, rustic atmosphere with a touch of formality.
6. Metallic Shine – Bling on a Budget:
If you're leaning towards modern designs, then metallic ball ornaments are the way to go. Get creative with clear acrylic boxes filled with shiny gold ball ornaments. It's a glamorous decor choice that won't break the bank.
7. Festive Candles – More Than Just Cozy:
Candles aren't just for creating a snug atmosphere; they're fantastic for gifting. And the best part? The creative possibilities are endless!
8. Twinkling Lights – A Parisian Touch:
Here's a nifty tip straight from Paris – add twinkling lights to your garlands, wreaths, or trees. Watch your decor transform into an enchanting wonderland.
9. Warm Colors and Natural Textures – Cozy Christmas:
Finally, if you're all about that warm and cozy vibe, think blush colors. They pair beautifully with traditional gold, silver, and jeweled tones. And don't forget to embrace earthy tones and natural textures like wood and twine for creating stunning arrangements and centerpieces.
---
Remember, these trends are like ingredients in a recipe, and you're the master chef. Mix and match, let your creativity flow, and craft your unique holiday magic. Whether you're into artificial elegance, natural and wooden charm, or a hint of metallic shine, your holiday decor will reflect your style and the joyful spirit of the season.
Here's to a season filled with warmth, cheer, and holiday magic!